Choosing the right ladder depends on your specific needs and usage situation. Different types of ladders are suitable for different tasks and environments. Here are some common types of ladders and factors to consider when choosing one:
1.Household folding ladder:
Suitable for home maintenance, cleaning and short-term use.
Choose the right height to meet your home needs.
Consider the ladder's folding convenience and storage space
2.Upright Ladder:
Ideal for tasks that require working in a higher position, such as painting, renovation and more.
Consider the working height and the stability of the ladder. Make sure the ladder is tall enough, but also pay attention to stability and safety.
3.Telescopic ladder:
Suitable for a variety of tasks requiring different working heights.
Consider the maximum weight capacity and maximum extension height of an extension ladder.
4.Scaffold Ladder:
Ideal for tasks that require working in larger areas, providing a stable platform.
Make sure the scaffold ladder has reliable support and stability.
5.Stationary Ladder:
Suitable for locations requiring long-term or frequent use, such as commercial environments.
Consider the ladder's fixed location and installation requirements.
6.Stepped Ladder:
Ideal for tasks that require working on steps or uneven surfaces.
Consider the stability of step ladders and the adjustability of the feet.
7.Safety Ladder:
Suitable for jobs requiring higher safety standards, such as industrial environments.
Make sure that the safety ladder complies with the relevant safety standards and regulations.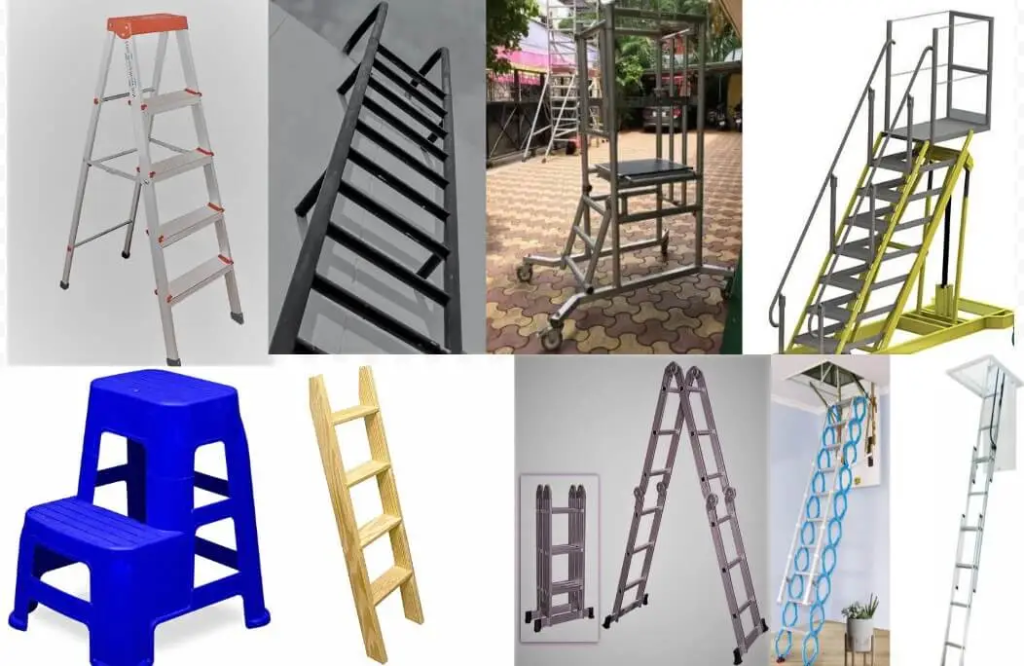 When choosing a ladder, you should also consider the following factors:
Height Requirements: Determine the maximum height you need to reach, then choose the appropriate ladder height. Be careful not to overextend the ladder for safety.
Weight Capacity: Ladders are marked with their maximum weight capacity. Make sure the ladder you choose can handle the weight of what you're working on, as well as the weight of your tools.
Stability and Safety: Make sure the ladder is stable and able to balance while in use. Read and follow the ladder's safety instructions.
Materials and Durability: Choose durable materials to ensure the ladder will maintain its function and appearance over time.
Storage and Portability: Consider your ladder's storage needs and portability. Some ladders can be folded or telescopic to save space.
Safety Certifications: Choose a ladder that meets your region's safety standards and certification requirements to ensure safe use.
Ultimately, choosing the right ladder for your needs is a combination of task type, height needs, safety, and weight capacity. If you are unsure how to choose the right ladder, it is recommended that you consult a professional or ladder supplier for more specific advice.