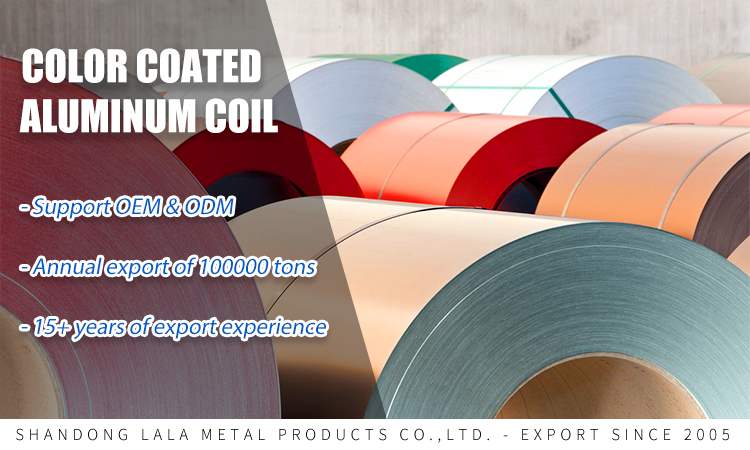 | | |
| --- | --- |
| product | Aluminum Color Coated Coil |
| Property | Anti-Corrosion, Heat Resistant |
| Surface Treatment | Polyester(PE) Coating / fluorocarbon(PVDF) Coating. |
| Production Process | Cold Rolled, Hot Rolled |
| Internal Diameter | 300mm,405mm,505mm or as request |
| Thickness |  0.2mm – 60mm |
| Width | 600mm – 2600mm |
| Temper | O H22 H24 H14 H26 H18 |
| core oD | around 100mm or as customers request |
| Coil Weight | 2-4 tons |
| Package | Export wooden pallets, craft paper, anti-blushing agent. |
| Shipping | Container Loading or Bulk Pack |
Color Coating Aluminum coil is performance is very stable, not easy to be corroded, the surface after special treatment can reach 30 years of quality assurance, unit volume of weight is the lightest metal materials, color coated aluminum, is the most popular new material.
Aluminium coil (foil/panel/roll) has become one of the most popular materials in the fields of builders, architects, and designers due to its unique properties compared to other structural materials. It's widely used in transportation & automotive, packaging, heating, ventilation & air conditioning, building & construction (roofing, rain gutters, window screen channel, curtain wall, facades, interior and exterior decoration, roll shutters, aluminium window blinds, louvres, etc.), energy & power networks, lithography & printing, market Industrial applications, market consumer goods and other markets (channel letters, advertising board, road signs and other signage products).
We can customize any color you want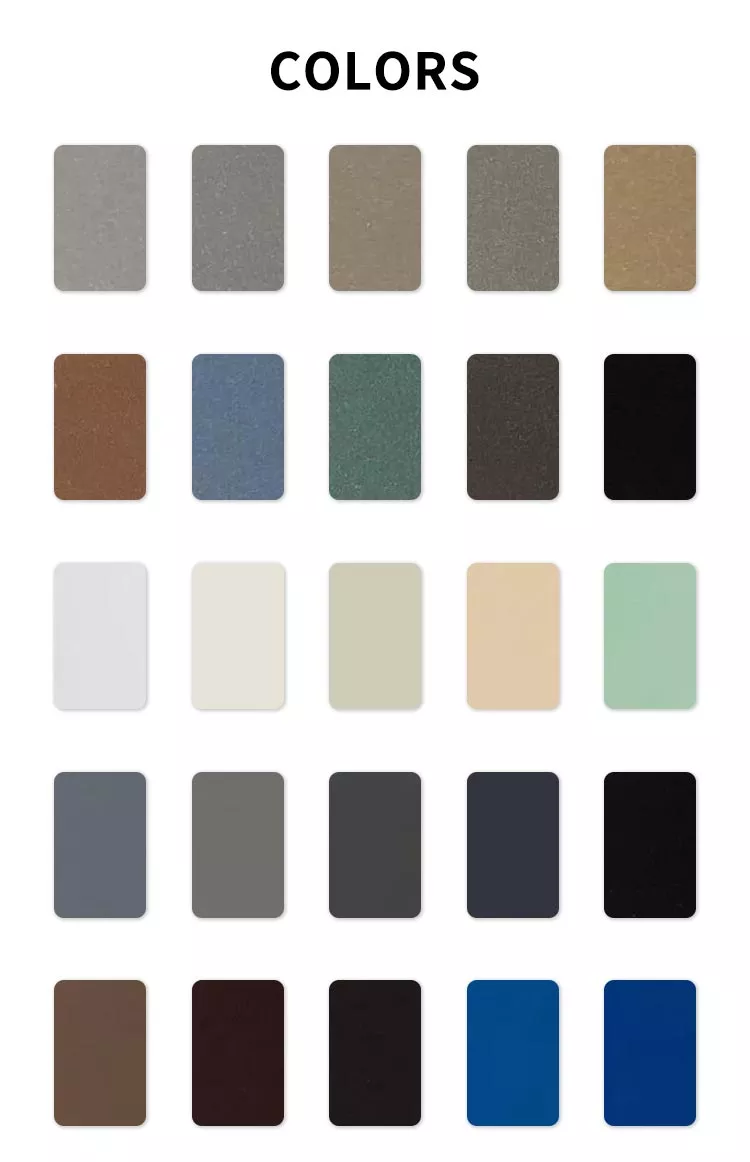 Surface Coating
1.Fluorocarbon coated color coated aluminum coil (PVDF):The fluorocarbon coating is a coating of PVDF resin mainly referring to a vinylidene fluoride homopolymer or a copolymer of vinylidene fluoride and other small amount of fluorine-containing vinyl monomer. The chemical structure of the fluoric acid base is combined by a fluorine/carbon bond. This chemical structural stability and firmness make the physical properties of fluorocarbon coatings different from conventional coatings. In addition to the abrasion resistance in terms of mechanical properties, impact resistance has excellent performance, especially in harsh weather and environment, showing long-lasting resistance to fading and UV. After the high temperature barbecue is formed into a film, the molecular structure in the coating is tight and has excellent weather resistance. It is especially suitable for the decoration and display of indoor, outdoor decoration, commercial chain, exhibition advertisements, etc. in public places.
2.Polyester coated aluminum coil (PE):The polyester coating formed by multiple baking of the surface of the aluminum plate can form a solid film adhered to have a protective decorative property. It is an anti-UV ultraviolet coating. The polyester resin uses a polymer containing an ester bond in the main chain as a monomer, and an alkyd resin is added. The ultraviolet absorber can be divided into a matt and a high-gloss series according to the gloss. It can give rich color to color aluminum products, and has good gloss and smoothness, as well as superior texture and hand feeling, and can also add layering and three-dimensionality. It can protect objects from ultraviolet radiation, wind, rain, frost and snow; the coating can protect due to temperature difference, freeze-thaw cycles, corrosive gases and microorganisms. Especially suitable for interior decoration and advertising panels.