Introduction
This guide covers everything you need to know about stone coated roof tiles.
You will learn:
And much more…
Chapter 1: What is a stone coated roof tiles ?
Colored stone tile is a decorative roofing material, usually used for roof covering. It is made of concrete or ceramic, which is waterproof and durable. The characteristic of colored stone tiles is that the surface is covered with colored stones, which can provide a variety of color and texture options to give the roof an aesthetic appearance.
The installation of colored stone tiles is relatively simple, and is usually fixed on the waterproof layer of the roof with nails or screws. They can be used in various types of construction, both residential and commercial.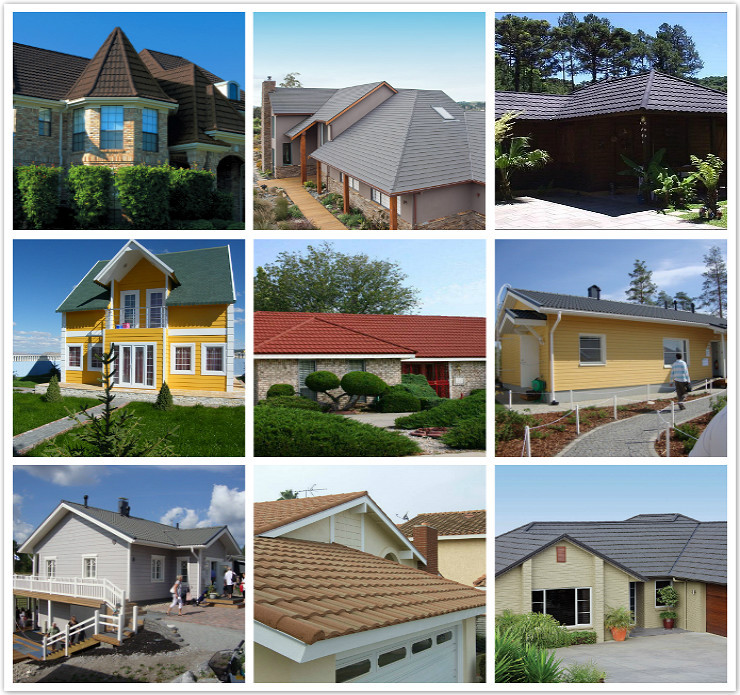 Chapter 2: Stone coated roof tiles advantage
Colored stone tiles have some 4 advantages:
1.Durability: Colored stone tiles usually have a long lifespan and can resist erosion from ultraviolet radiation, wind, rain and other natural factors
2.Fire resistance: Due to the characteristics of its material, colored stone tiles are usually fireproof, which helps to improve the safety of the roof.
3.Good heat insulation performance: colored stone tiles can provide a certain degree of heat insulation effect, which helps to keep the indoor temperature stable.
4.Beautiful appearance: colored stone tiles are available in a variety of colors and textures, and you can choose the most suitable style according to your personal preferences and architectural style.
Chapter 3: Stone coated roof tiles disadvantage
However, colored stone tiles also have some considerations:
1.Weight: Colored stone tiles are relatively heavy, and it is necessary to ensure that the building structure can bear its weight.
2.Cost: Compared with other roofing materials, colored stone tiles may have a higher cost.
3.Maintenance: Although colored stone tiles generally do not require frequent maintenance, they still need to be checked and cleaned regularly to ensure their function and appearance.
Chapter 4: Stone coated roof tiles business introduction
Shandong Lala Metal Products Co.. Ltd. is one of the leading fasteners and steel products exporter in china, is well-known in the industry with many years of export experience. Our main products: common nails, roofing nails, concrete nails, corrugated roofing sheet, PPGl coils, Gl coils, square hollow tube, round pipe, cold rolled steel sheet wire,wire mesh and all kinds of agricultural tools. We are located in Linyi city, Shandong Province with convenient transportation access. Dedicated to strict quality control and thoughtful customer service, we insist quality first and a stdelivery, our experienced staff members are always available o discuss your requirements and ensure full customer satisfaction. We also welcome OEM and ODM orders. Whether selecting a current product from or seeking ngineering assistance for your application, you can talk to our customer service
center about your sourcing requirements
Our experienced sales team serving more than 120 bigger customers in more than 40 countries. We have a large number of trusted and long-term cooperative customer partners, we are willing to provide Chinese high-quality goods and services for more friends all over he world, We firmly believe that honesty, trustworthiness and win-win will make our cooperation develop for a long time
Generally speaking, colored stone tiles are a material commonly used in roof decoration, which can provide durability and beautiful appearance, but factors such as building structure and budget still need to be considered before selection and installation.